One of my favorite parts of attending International Foundation conferences is the chance to talk with the attendees to get a feel for industry trends and understand what is weighing on the minds of those who serve benefit plans.
Late last year, we held a series of focus groups on the topics of workplace wellness at the Annual ISCEBS Employee Benefits Symposium, the U.S. Annual Employee Benefits Conference and the Annual Canadian Employee Benefits Conference. We walked away with insights of how different types of organizations are approaching employee wellness.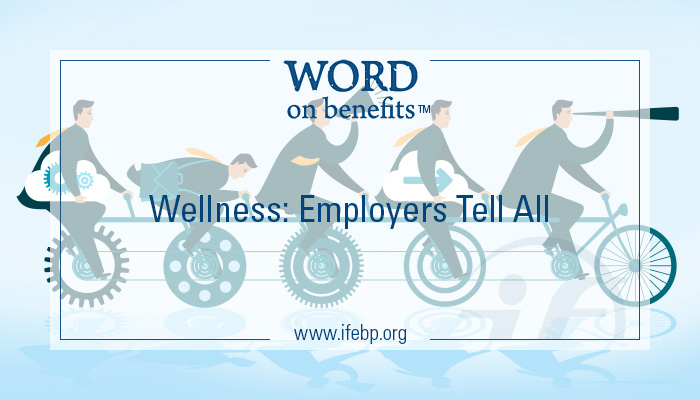 Here is a look at some of the main themes that emerged, arranged by type of organization and country.
 U.S. Corporations
When asked about their reasons for offering wellness initiatives, corporate participants mentioned things like culture, attraction, engagement, "the right thing to do" and worker appreciation more often than ROI and saving/reducing costs. However, they were more likely to measure ROI or hard metrics as opposed to softer measures like engagement, satisfaction and morale (all results were positive, though some described measurement struggles).
Multiple participants mentioned taking total well-being approaches with programming, e.g., whole life fairs, total wellness weeks and tying in mental and financial wellness.
Leadership was mentioned as the key to success by several participants, e.g., "C-suite hands-off support" and staff wellness champions.
U.S. Public Employers
Several public employer participants mentioned having wellness programs. Seminars and different types of education are common among this group's programs. Some have made major investments with extensive programs in efforts to cut health care costs.
Participation is an issue—they mention beginning to offer more aggressive incentives and initiatives such as gym membership reimbursements and premium incentives/penalties.
U.S. Multiemployers
Most multiemployer plans have some scattered wellness initiatives, and several mentioned working to get more initiatives in the near future. This group tends to be heavily focused on screening and treatment-based initiatives.
Dispersed populations are a barrier to wellness success for multiemployers. Many mentioned incentives as the solution for their populations as well as large health fairs with screenings, flu shots, health information and raffles to bring everyone together in one place.
Canadian Organizations
While many participating Canadian organizations have employee and family assistance programs, there was agreement that more needs to be done in the area of mental health—more awareness, counseling, programs, support, etc. Mental health and disability claims are increasing.
Stigma is still a major mental health issue that many organizations mentioned. Mental health was described as the last taboo. It was felt that stigma and misunderstanding lead to a lack of use of benefits and services.
Participants described several keys to success with workplace mental health, including disability management programs with rehab counselors to help control costs, increasing awareness and education, training supervisors/foremen, more employer/union collaboration, tailoring education and communication efforts based on worker surveys, testimonials and peer support programs.
[Related: Benefit Bits: How to Introduce Health and Wellness Programs]
How does your organization compare? Does your organization have any unique or effective wellness offerings? Share in the comments below!

Neil Mrkvicka
Senior Research Analyst at the International Foundation