I love the build up to a holiday! I excitedly tromp through the pumpkin patch when the leaves first start to fall, fill my kid's Easter eggs with candy a month in advance and have been known to gaze longingly at the snow covering the grassy spot where we watch our town's Fourth of July parade.
Each year around this time, I feel the excitement in the air as another big holiday approaches—National Employee Benefits Day! Celebrated each year on April 2, the day recognizes benefits professionals, trustees, administrators and professional advisors for their hard work and dedication to providing quality benefits for their workforce.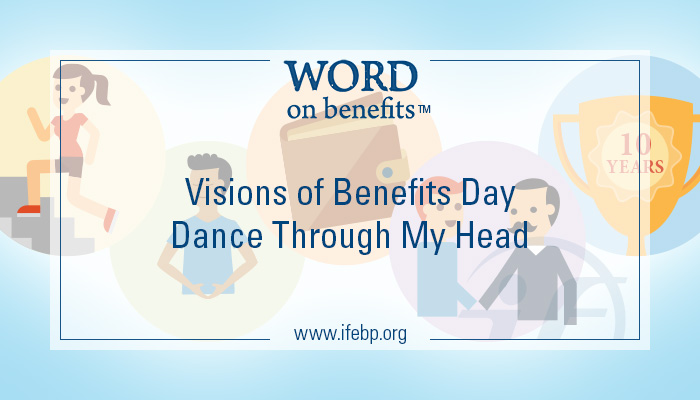 Here at the Foundation, we take the day seriously. It's a time for us to recognize all of you who play such an important role in the lives of your employees. Your commitment to providing health care and retirement benefits for your employees inspires us, and it's with you in mind that we begin our planning for the big day.
This year we are designing an Employee Benefits Day focused on Wellness 2.0—the growing movement for employers to take their wellness program beyond just physical health and to focus on the five areas of overall well-being: mind, body, wallet, community and work.
We have tons of Wellness 2.0 resources to get you thinking about what you can do at your organization, including a helpful list of sample programs, inspiring tips and case studies from industry experts and even a chance to assess your overall well-being with the Foundation's favorite feline Gus the Cat!
National Employee Benefits Day will be here before we know it, so start making your plans now! Whether you want to dream big and launch a comprehensive Wellness 2.0 initiative for your workforce or keep it simple and plan a lunch out with colleagues, I hope you'll take time for a little Benefits Day fun. You've earned it!
If you know how you'll be celebrating, I'd love to hear about it in the comments below! Each year I'm amazed at the creative ways the day is recognized!