Happy National Employee Benefits Day!
Not sure how to celebrate every benefit professional's favorite day? We've got you covered!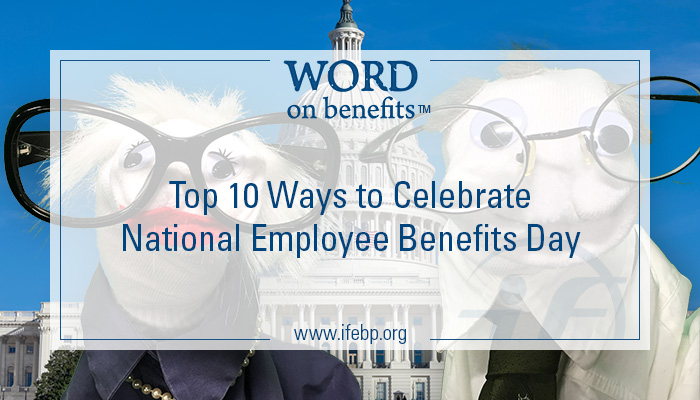 The Top 10 Ways to Celebrate National Employee Benefits Day
Take a selfie with your favorite benefit form (let's hear it for Form 5500!) and post to Twitter using #NEBD.
Create sock puppets immortalizing personnel from key enforcement agencies.  
Read a guilty pleasure: 50 Shades of Grey: ACA Interpretation.
Acknowledge Throwback Thursday by kicking off your next team meeting with, "Sorry to hear about that fungal infection, Nancy. That sounds nasty!" #TBT (before HIPAA)
Reach the younger participants by having your teenagers "translate" your next benefit communication: "OMG, the HC plan is totes magotes."
Things not working out with a vendor? Have Taylor Swift write you a break-up song.
Give back to your community by reading section Section 510 of ERISA at the next open mic event. After the stunned silence, smile and say, "You're welcome."
Bring a Matthew McConaughey vibe to work and say to no one in particular, in a slow Texan drawl, "I've been working in benefits since before benefits were cool. I don't do it to make a statement. I just like it."
Even though the sound of it is something quite atrocious
if you say it loud enough, you'll always sound precocious:
Super-cali-fragilistic-MPRA-alidocious
Put a bumper sticker that says "401.k" on your car so everyone knows you run your DC plan.
How do you plan to celebrate National Employee Benefits Day? Share in the comments below, on Twitter with #NEBD or Facebook. 
[Related: Quick Quiz—Play Along With Gus the Cat to Test Your Total Well-Being]