Which benefit would you rather have—a flexible work arrangement or an on-site fitness center? A casual dress code or an educational assistance plan? Vote for your personal favorites now in round two, see how your preferences compare with others and forward the link to get others in on the Benefits Madness.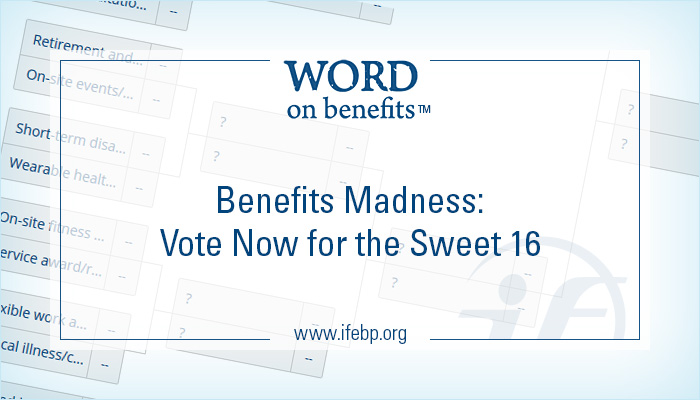 About 150 votes per game were submitted throughout round one, and for the most part, the higher seeds have prevailed. One exception was ten seed staff outings upsetting seven seed lifestyle management programs in a match-up that came down to a single click.
Staff outings aims to be this year's Cinderella story, but is now matched up with a powerhouse prescription drug plan. And a pair of nine seeds subsidized cafeterias and flexible benefit plans each advanced over eight seeds. Heavy underdogs long-term care insurance, phased retirement programs and sport/game leagues each put up good fights. Otherwise household names and programs have taken care of benefits business. But there are no cupcakes waiting in round two—nap rooms, babies at work and walking paths have all been sent home.

Sweet Sixteen voting is now open through Friday (March 20). Voting for the Elite Eight and Final Four is next week, and a champion will be announced Monday, April 6. Results and new match-ups to vote on will continue to be posted at the close of each round.
Neil Mrkvicka
Senior Research Analyst at the International Foundation