We have arrived at the Final Four benefits – health care plans, 401(k) plans, defined benefit plans and paid time off. Which two benefits will advance to the championship? Vote for your personal favorites now, see how your preferences compare with others and forward the link to get others in on the Benefits Madness.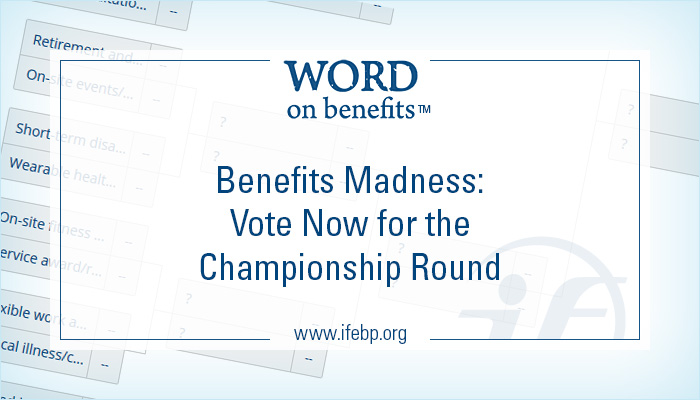 More than 125 votes per game have been submitted throughout the first four rounds. All four number one seeds have made it to the Final Four. Paid time off prevailed in a close matchup against prescription drug plans. The two remaining retirement plans (i.e., defined benefit and 401(k) plans) each had comfortable victories against flexible work arrangements and paid holidays, respectively. And health care plans made quick work dissecting and defeating dental plans.
Next round's match-ups are sure to satisfy…
Defined benefit pension plan vs. Paid time off
Health care plan vs. 401(k) plan

Voting for the Final Two is open today and tomorrow. The Championship will begin Wednesday and a winner will be announced next week Monday, April 6.