College basketball tournament brackets have been released, and many workers are busy organizing pools and filling out brackets. Our Word on Benefits blog team has decided to get in on the fun this year with a fitting benefits twist. A "selection committee" was formed and, after some intense debates (on, among other things, the merits of pet insurance vs. on-site massages), 64 benefits were judged worthy of competing in this year's Benefits Madness tournament!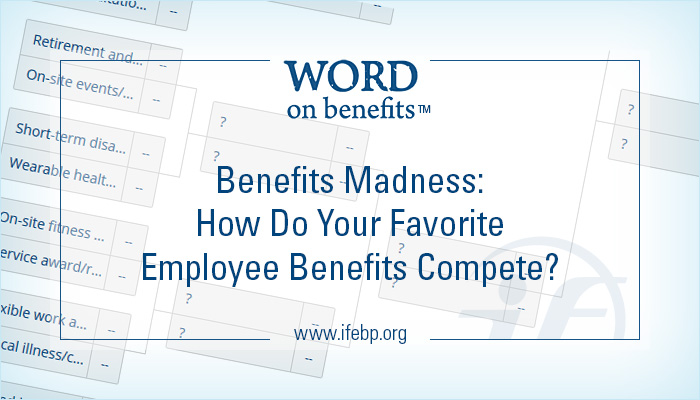 Which benefit would you rather have—a 401(k) or paid holidays? Flex-time or dental insurance? Vote for your personal favorites, see how your preferences compare with others and forward the link to get others in on the Benefits Madness.

There will be six rounds of voting. Round one is open today (March 16, 2015) and tomorrow (March 17, 2015). Watch for several more rounds of voting, ending with the championship Monday, April 6. Results and new match-ups to vote on will be posted at the close of each round.
For a chance at a $25 Amazon gift card guess the championship-winning benefit in the comments below, tweet with #benefitsmadness or post your winning benefit pick on our Facebook page by Tuesday, March 17.
I also suggest having some Benefits Madness fun with your coworkers—print and complete brackets with your predicted winners and start a friendly competition in your office: Benefits Madness Bracket
Let the madness begin, and may the best benefit win!

Neil Mrkvicka
Senior Research Analyst at the International Foundation