The final round of Benefits Madness was no nail-biter in comparison to the Wisconsin/Duke battle that kept me up late last night. Health Care Plan takes the trophy as the most popular employee benefit in our polls with 74% of the votes to Paid Time Off's 26% in the championship.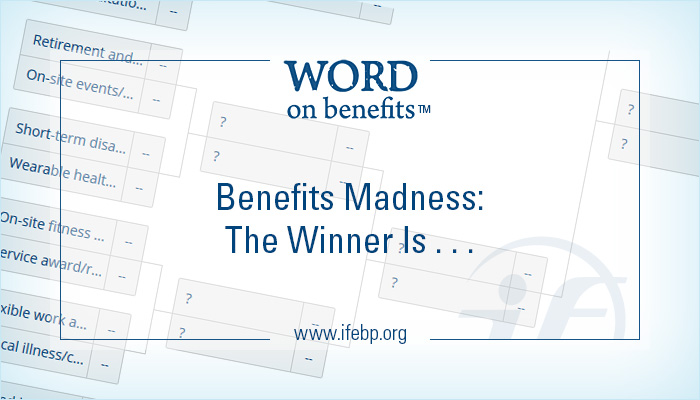 We created Benefits Madness to stir up a little fun with our profession, and fun we had. But it's been surprisingly interesting to hear the conversations among my coworkers and even to contemplate my own choices when I voted in each round.
When having to choose between different benefits, the choice often comes down to life stage for each individual. A coworker with a new baby ranked on-site daycare high, while another nearing retirement preferred retiree health care.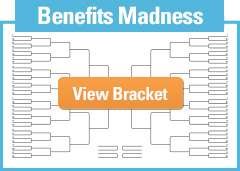 The other factor that clearly came into play was the battle between today and the future. What are you willing to give up today to prepare for a better retirement? Paid time off prevailed over defined benefit plans in a surprising narrow upset in the Final Four. I'd imagine it was a hard vote to cast in either direction for everyone, as it was for me.
I take away three lessons from the past month of fun with benefits bracketology:
Employer-provided health care plans are still a top priority. Health care plan won the overall competition. Also notable—four specific types of health care plans (employee, retiree, spouse, children) made the Sweet 16.
To appeal to a diverse workforce, you need to offer a diverse selection of employee benefits.
If you think you know what employees want, think again and then go ask. You may be surprised. I suggest exercising some degree of caution when surveying, however. In Benefits Madness, bonuses knocked off disability and profit sharing won over mental health.
I hope you had as much fun with Benefits Madness as we did here in our office, and maybe even learned a thing or two about what employees want. Thanks for playing along!