Paid time off (PTO) tends to be a hot workplace topic in December. Employees have questions about which days the office will be closed, how many vacation days they have left for the year (or will gain in the new year) and whether any remaining vacation time can be carried over.
The International Foundation's comprehensive Employee Benefits Survey: 2018 Results offers you a glimpse at the PTO policies of organizations nationwide. How does your organization stack up when it comes to paid time off?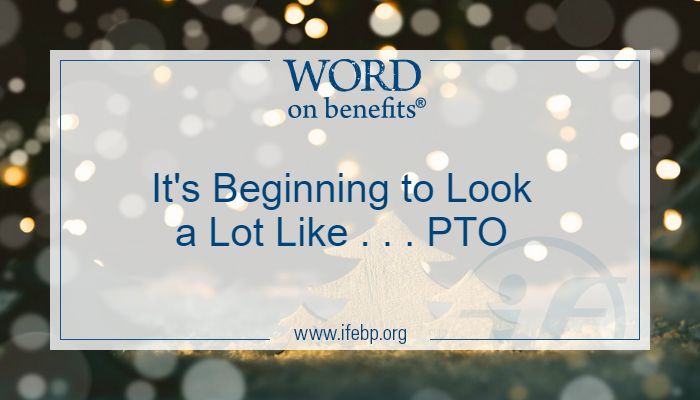 I'll Be Home for Christmas (Because I Have a Paid Holiday)
When it comes to Christmas Day, nearly all employers, 95%, offer paid time off, and about half, 48%, include Christmas Eve as a paid holiday. For New Year's celebrations, 97% offer New Year's Day as a paid holiday, and 31% offer New Year's Eve.
A lucky 12% of organizations offer the full week between Christmas Day and New Year's Eve as paid holiday time and, for flexibility, 47% of employers offer one or more paid floating holidays—most commonly offering one or two days.

Have a Holly Jolly Paid Vacation
Looking at paid vacation time, 59% of employers surveyed offer a paid vacation plan, 36% offer a PTO bank and 3% offer unlimited vacation time.
Most commonly, employers offer ten vacation days after one year of service and increase that amount in increments of five days at service-year milestones: 15 paid vacation days at five years of employment and 20 vacation days at the ten-year mark. The number of PTO days offered is a little more varied, with ten days at one year of service being the most common option and time varying widely in ongoing years.
Deck the Halls With Vacation Time Options
For employees who haven't used all of their accrued vacation time, 69% of employers allow their employees to carry over unused vacation or PTO to future years.
As additional options for vacation or PTO, 24% of employers permit leave donation—allowing employees to donate time off to fellow employees in need—and 16% of employers have policies that allow their employees to buy additional or sell excess time off.
Related Reading: Holiday Office Parties Worth Celebrating
Tell Me More, Tell Me More, Tell Me More
Looking for even more detailed benchmarking data on vacation time or any other benefits topic, including health care and retirement plans? Check out the report: Employee Benefits Survey: 2018 Results.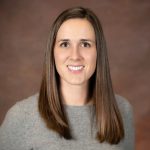 Brenda Hofmann
Communications Manager at the International Foundation