When you travel for pleasure, you have a choice—be a tourist or be a local—hang at the hotel bar or find the awesome restaurant down the street. As we get ready for the 62nd Annual Employee Benefits Conference, it occurred to me that the same concept applies. So, here are five Annual Conference hacks straight from the "locals," a.k.a. Foundation staff, that will help you take your education to a whole new level.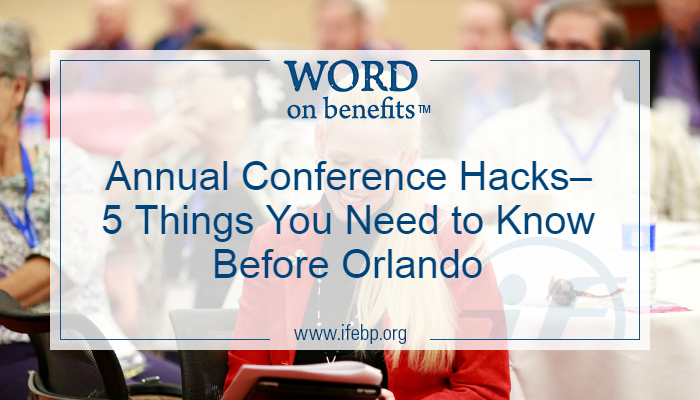 Hack #1. Speak with the speakers.
Take advantage of Q&A time after a session has ended and speak with our expert speakers. This is your chance to get their personalized advice, clarification on an issue or insights. Worried about making it to your next session before it fills up?  Don't. Many sessions are offered multiple times.
Hack #2. Focus Less on notes and more on what is being said.
There is a wealth of information shared in each session, and it is nearly impossible to write it all down. Focus more on what is being said and less on taking notes—Session handouts are available online for six months so you can always go back and grab whatever you may have missed.
Hack #3. Get FREE expert advice at open forum sessions.
Whether you have legal questions, accounting questions or investment questions or would like advice from an administrator or actuary, you can speak with experts in these areas—for free—and get the answers you need at an Open Forum session. Space is limited so arrive a little early.
Hack #4. Don't forget to network.
This is one of the few chances you have to meet so many of your peers from across the country. Take advantage of the Welcome Reception on Sunday, daily refreshment breaks, lunch and even just down time before a session begins to network with your peers to learn how they are tackling the same issues you face.
Hack #5. Make appointments with your service providers and visit the exhibit hall.
It is likely that at least some of your service providers will be exhibiting at the Annual Conference. Save time and money by meeting with them while you are there—even if it is just to check in and say hi. Looking for a new service provider? Check out the exhibit hall —More than 200 exhibitors will be at the conference this year.
With the Annual Conference less than two months away, now is the time to start building your agenda. And whether this will be your first time attending or your tenth, keeping these hacks in mind will help you get the most out of your conference experience.


Jennie Cotter
Marketing Communications Specialist at the International Foundation