It's a bleak, -15° Wisconsin winter day as my cold fingers grace the keyboard all to bring you a warmer, cozier concept to consider: HYGGE.
The concept of hygge (pronounced "hoo-gah") is gaining popularity in the U.S. It's a Danish word roughly translated into English as "coziness," and it's one of my favorite things.
Practicing hygge can help lower anxiety, depression and stress. In the Foundation's latest mental health and substance abuse survey report, these are big challenges affecting productivity, healthcare costs and absenteeism for organizations. Over half (57%) of workers are impacted by anxiety, 63% by depression and 93% by stress.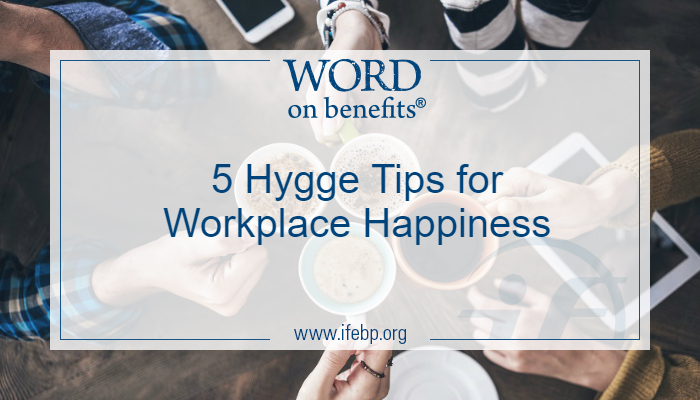 Five ways to bring a little hygge to your workplace
Power in numbers—While it's easy to just eat at your desk and watch a cat video or two, hygge is about community and bringing people together. Grab lunch with co-workers or participate more wholeheartedly in all-staff events when offered. According to the International Foundation Workplace Wellness Trends report, 47% of organizations provide staff outings and 57% offer on-site events/celebrations.
Practice mindfulness—Easier said than done, I know. Take a two-minute break here and there to focus on only breathing or do some light stretching at your desk. There are many mindfulness apps to help guide the process, such as Headspace, which I'm a big fan of. Almost 20% of workplaces offer meditation/mindfulness classes on site and 28% have yoga classes available, according to Workplace Wellness Trends report.
Sip sip hooray—For instant hygge, just add a warm, cozy beverage like hot chocolate, tea or coffee. According to the International Foundation Employee Benefits Survey 2018, 71% of workplaces offer a coffee service. On an extra cold and snowy day recently, the International Foundation set up a hot chocolate bar for its employees. A fun, easy perk that made everyone feel a little cozier amongst the elements outside.
Give your workspace some love—Make sure you have a few photos of people and things you love, artwork that makes you happy, new pens, a plant or two, and even a small accent lamp if space allows. Do some decluttering/Kondo-ing when you can and enjoy a calm, cozy place to be productive when you're away from home.
Be nice—Companionship and friendliness are essential aspects of hygge. You don't have to go full Pollyanna, but think of ways you can make work happier for your colleagues. Offer to help if someone looks frazzled, say good morning even if you don't feel like it (because you're really tired from snow blowing earlier). Over half (59%) of organizations offer community charity drives and 53% offer community volunteer projects (Workplace Wellness Trends report). If your workplace doesn't offer this benefit, look for opportunities to get your organization involved. Your heart will feel cozy in return
Even if you live in a warm climate, the attitude of hygge can still be practiced. For our cold-weather friends, I hope these ideas will help make the rest of winter a little more bearable. (LESS THAN 50 DAYS UNTIL SPRING!) Do you have any hygge tips you're already implementing in the workplace? Please top off your coffee, wrap yourself in a scarf and share in the comments below.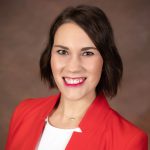 Anne Patterson
Communications Associate at the International Foundation